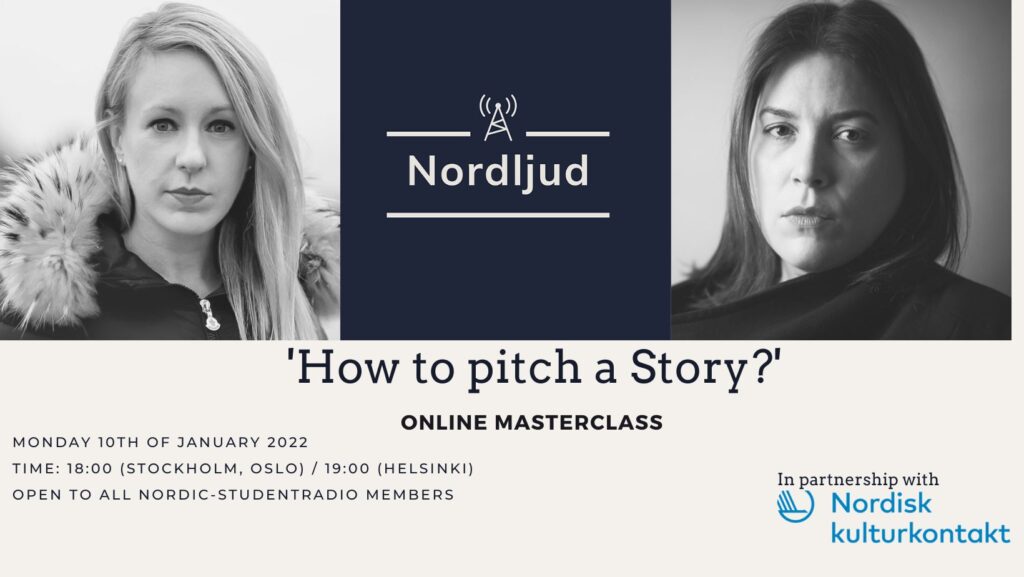 Nordljud, is proud to announce that on the 10th of January at 18:00 CEST, we will be hosting an online Masterclass with renowned freelance journalists Maddy Savage and Ann Törnkvist.
Maddy and Ann have many years of experience in the industry and will talk about their career, what steps they took to get to where they are now and also share some useful tips for pitching and how to present a good idea/project to media production companies. There will then be a Q&A, where you get the chance to ask your questions to professionals.
The masterclass will be hosted in English! The event is reserved to members of Nordic Studentradio organisations and is free of charge. You are not a member of a studentradio station? Why not join one! More info on local studentradio stations in Sweden > www.studentradion.se
In order to attend, please fill this form, you will receive the link to the event by email closer to the time: https://forms.gle/vbUwk7K5uFPkgoAb7
The deadline to sign up is: 07/01/2022
More detailed info on our speakers – coming soon!